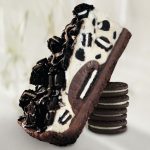 OREO Cookie Bash
An OREO cookie universe of white 'n milk chocolate cream, starry with OREO chunks, and showered with dark chocolate drizzle.
Caramel Apple Granny Pie
Buttery caramel and toffee-studded custard hug fresh Granny Smith apples piled high in our melt-in-the-mouth shortbread crust.
Chocolate Lovin Spoon Cake
A giant mouthful of chocolate pudding between two layers of dark, moist chocolate drenched chocolate cake completes our Choc'late Lovin' Spoon Cake.
Chocolate Peanut Butter Pie
Dark chocolate and peanut butter mousse full of Reese's Peanut Butter Cups.
New York Cheescake
So creamy, smooth and satisfying it makes the Statue of Liberty smile.
Price subject to change.
$3.25 minimum per table per person.